Scan directly to the collection of your choice
Udocx provides the smartest way to scan documents into Xerox DocuShare. With Udocx there's no need to install additional software or hardware; you have a full featured scanning solution supporting OCR and meta-data up and running within minutes.
One-click scan to Xerox DocuShare
Store documents directly in the appropriate location
Saving scanned documents in the right location is often a multi-step and error prone process. With Udocx you can quickly create and define an App to scan documents directly into the correct destination. Your scan Apps are available to you instantly on all Udocx enabled devices, including desktop scanners and MFPs.
Simply select the app when scanning, and in one click your documents are stored in the correct location.  Scan, store, find and share information within and outside of your company with ease and enhance collaboration.  
Smart digital documents
Retrieve your documents with ease and boost productivity
Do you find it easier to find information on the Internet than within your own office? Udocx digitizes documents without quality loss and enriches them with full-text indexing. Converted to searchable PDF files, digital documents are readable from any device.
Udocx also allows for documents to be easily integrated into existing workflows. This boosts productivity and collaboration throughout the company.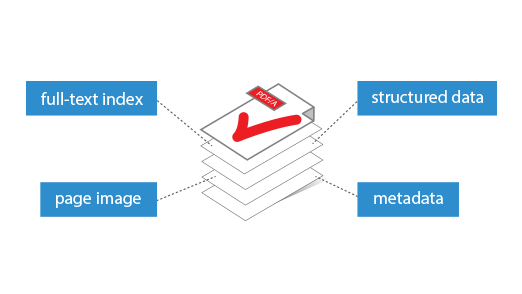 No software, no server
Enjoy all the benefits of the cloud
Udocx is a cloud based software as a service, processing your scans and storing your documents in your own cloud or on a local server. There is no need to install any hardware or software making it effortless to implement.
Udocx safely runs on Azure and is available 24x7 with unlimited scalability. Flexible management options ensure that you retain the control you need to meet the compliance requirements of your organization.